Start a monthly Craft Night
Why host a monthly craft night anyway?
So you and your friends can spend some fun quality time together
creating things and enjoying each others company while doing it.
and
Duh. It's fun as hell. Get with the program. Plus, everyone goes home with their
completed project and the memories of an enjoyable evening.
Step One: Pick your group
1. I would recommend you choose 12 friends for this.
2. Each person will host the Craft Night once during the year at their home.
3. Each person will choose a month, and what day it will be on.
4. Each month will have a theme, potluck, and a craft to go with it.
5. Each host will be selecting and purchasing all the kits for each guest
I would like to add here that in the beginning, we all buy certain items that it just
goes without saying we know we will be needing. For example, we each bring our
"Craft Kit" it contains lots of things like scissors, glue, pins, pencil, markers, tape etc
that way, the basics are a given... no host has to repeatedly buy those things.
Also, we all know in January what the schedule will be, what the theme will be, and
what we are bringing to the potluck, we all pass it along and fill in the blanks until it
is completed. Really, we get this done in early December.
As you can see, it really is easy as long as you have a really good circle of
friends who enjoy things like this. We sure have a lot of fun. Below are just
some ideas to get you started of some things you may choose to craft.
For Spring;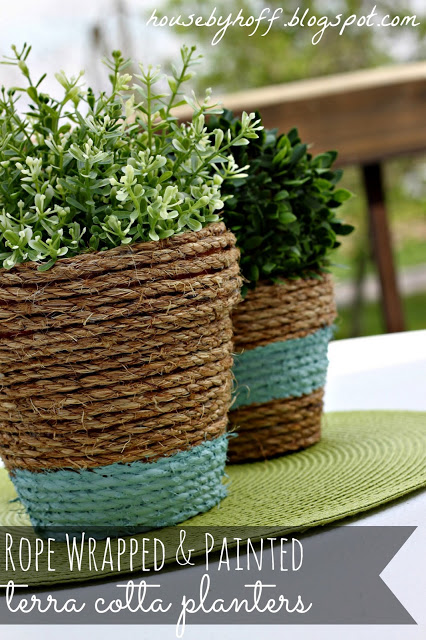 1. I started out with some terra cotta planters from Wal-Mart.
2. Starting at the top, I began hot gluing my rope down to the pot.
I continued to do this around the pot all the way to the bottom.
3. I snipped off the rope and secured it with hot glue.
4. Using left over latex paint from my front door and a standard paint brush,
I added a touch of blue to the base of this pot.
For Summer;
Plastic Coasters
via; country living
Colorful straws take on a supporting role for cocktails with a few strips of bright duct tape.
Step 1: Using sharp scissors, cut 15 straws of the same color to a length of 5½ inches.
Repeat with 15 straws in a second color. Next, create a "loom" by drawing a 5½-inch square on a piece of cardboard.
Step 2: Beginning with straws of one color, squeeze an end between your thumb
and index finger; run the straw between your thumb and finger to flatten.
Tape the straw's ends flat along opposite sides of the cardboard square. Continue flattening and taping straws down,
side by side, until the square is filled. Depending on the width of your straws, you'll need 13 to 15.
Step 3: Weave the other color straws, one at a time, in and out through the taped-down straws.
Push the straws tightly together as you go, to form a checkerboard pattern.
Step 4: Cut four 7-inch-long strips from a roll of duct tape in a coordinating color Place 1 strip atop each side of the square
so that 1½ inches of the tape rests on the straws. Using an knife, cut all the way through the tape and the straws on each side to create
a clean square that measures approximately 4½ inches. Discard the cardboard loom.
Step 5: Finish off the coaster's edges by cutting four 1-inch-wide strips of duct tape. Fold 1 strip over each edge to create a ½-inch border,
trimming as needed, for extra polish.
Covered Journals
To create these linen-covered journals, you will need a hardcover journal or notebook, preshrunk linen, needle and thread,
and a length of 3/4-inch ribbon long enough to go all the way around the journal plus 12 inches extra.
Instructions:
1. Lay the open, flat journal on the fabric, allowing 1/2 inch all around for hems and about 3 inches at each side for the pocket flaps.
Center the journal on the fabric and mark where the top and bottom of the covers start and finish, from end to end.
2. Cut a 1/2-inch vertical slit at each point, fold the fabric twice, and hem.
3. Make a double hem along each end of the cover. Neatly hem all around the fabric, mitering the corners.
4. Place the fabric right side up with the journal on top of it, fold over the flaps, and pin them in position.
Remove the journal and sew the top and bottom of the flaps securely.
5. Turn the cover right side out and fit it on the journal. Cut a length of ribbon, fold it in half lengthwise
to mark the center, and stitch it securely to the center of the spine to bind book.
For Autumn;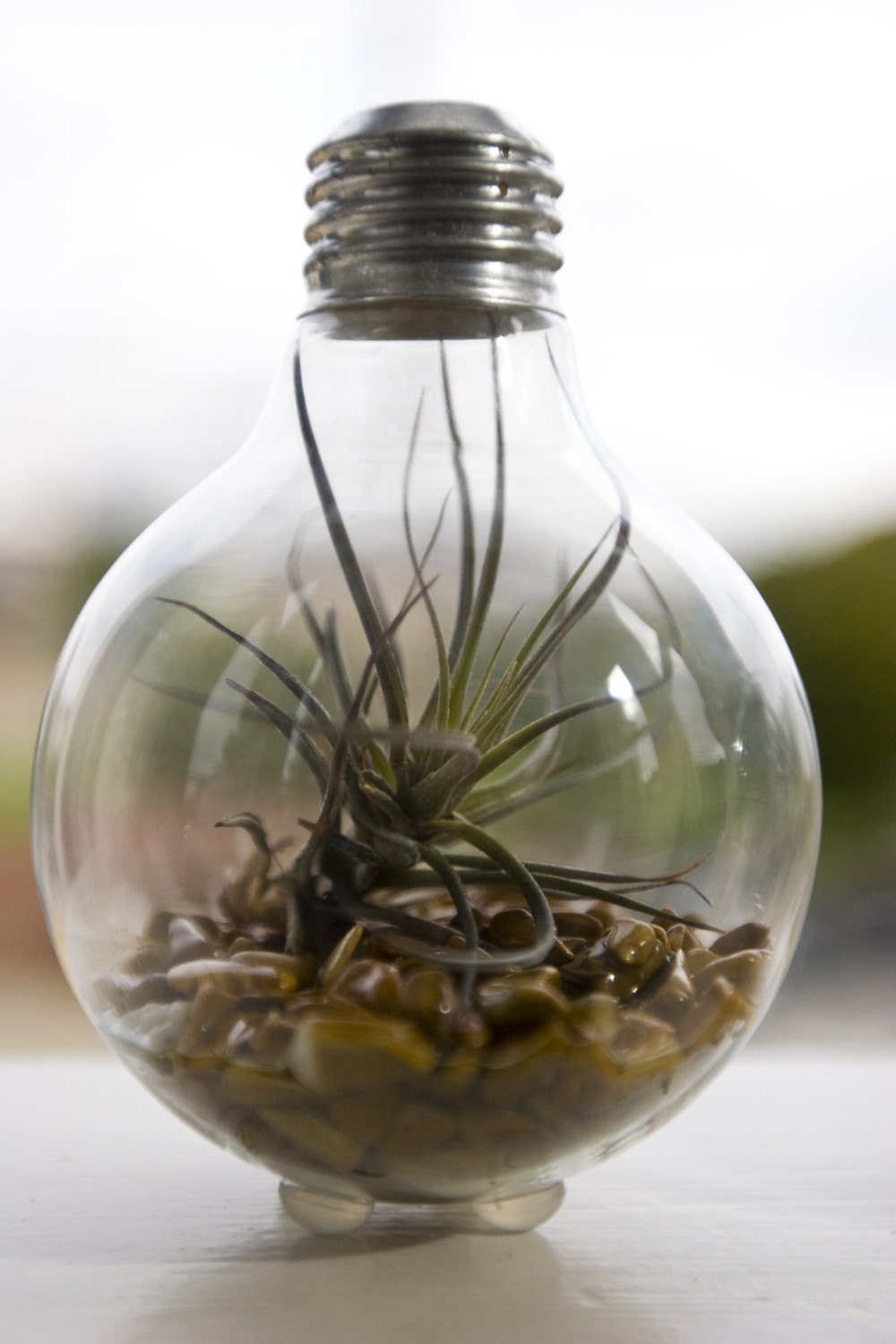 Materials Needed:
Container
Charcoal
Soil
Rocks
Sphagnum moss
Needle-nose pliers
Long tweezers
Screwdriver
Plants
Step 1:
Choose your container. Anything that is clear and can hold water, either open or closed, will work.
In this how-to we use a light bulb. You will need to remove the guts of the bulb, so put on your safety goggles!
Step 2:
Add a layer of rocks. You can use regular stones or expanded clay pellets — just make sure your rocks are clean.
Fill your container approximately 1/3 full with your layer of rocks.
Step 3:
Add a barrier layer of sphagnum or green moss,

a layer of activated charcoal and a layer of soil
(o

rganic soil works best). Consider what type of greenery you're planning to nurture: which plants work
well together? What type of container do you have? Moss needs only a fine layer of soil, whereas plants
need a little more for the roots to grow.
Step 4:
Gently settle in your plant and decorate the interior of the terrarium with figurines,
twigs or other ornamental additions.
Basically what I did was boil some water with whatever color and the pumpkin seeds for a few minutes, let them cool and then dry. For example, I put a handful of blueberries in the water for purple, about a tsp of tumeric and a dash of baking soda or lemon for the reddish brown and yellow, a bit of oak bark for brown (I think coffee beans or cinnamon would work better), and about tsp of spinach powder for green (didn't work very well). Some other things to try could be strawberries or raspberries, beets, different teas, and I have even heard that yellow onions with vinegar will make red. Now again, of course you can also use food coloring or paste to achieve your colors and I think you would just do a quick boil with the color and a dash of vinegar. You can also of course use several types and colors of dried beans as well. Then you will be ready to create this;
For Winter;
Holiday Birdseed Feeders
Materials:
Bird Seed

Cookie cutters: Each bird feeder requires its own cookie cutter so the amount you need

will depend on how many feeders you'd like to make. Muffin tins also

work

!

1 envelope of Knox gelatine

Medium-sized bowl

Spoon

Wax or parchment paper

Cookie sheet

String or twine
DIY


Step 1: Get in the mix
Following the steps on the Knox gelatine envelope, mix ¼ cup water with 1 envelope of gelatine powder in your bowl, and stir. Add ¼ cup of boiling water to the mix and continue stirring until the gelatine powder dissolves completely. Add 2 cups of birdseed to the gelatine mix. Stir until all of the bird seed is completely coated. If after thorough stirring there is a still a pool of gelatine at the bottom of the bowl, add a bit more birdseed.
Step 2: Fill'em up
Lay a sheet of wax or parchment paper on a cookie sheet and place your cookie cutters on top. Start filling the cookie cutters with your birdseed mixture until you fill half of the cookie cutter. Cut a piece of twine and lay the two loose ends onto the seed mix so that a loop forms at the top and hangs off of the

side

. Continue to fill the cookie cutter with your seed mixture until the cookie cutter is completely full. Use your fingers or a utensil to pack down the seed. Place your feeders (still on the cookie tray) in a spot where they can sit overnight to dry; turn them over a couple of times to help them dry thoroughly.
Step 3: Here birdy!
When your bird treats are dry, push them (carefully!) out of the cookie cutters. Hang them outside and wait for your feathered

friends

to arrive.
via; HGTV
~or ~
Holiday Ball Ornament Wreath
Nothing says the

holidays

like bright

ball

ornaments. This project will show you how to transform these popular

holiday

decorations into a stunning wreath. You would never believe that it can be done an afternoon!
Materials
•

Ball

ornaments in various sizes and colours.
• Wire: I used a small roll of 16g wire found at my local

hardware

store.
• Wire cutters.
• Hot glue.
• Pliers.
DIY
Step 1: Nicely nestled
Start stringing your ornaments together by slipping the wire through the top loop of the

ball

ornament. I kept my wire on the roll and cut it when I was done stringing. Unless you'd like one whole section to be blue and another green etc. make sure to vary the colours as your string. The same applies if you are using balls in various sizes. It won't take long to see how the balls nestle into one another creating beautiful clusters.
STEP 2: Pretty clusters
Once you've strung all of your ornaments use your wire cutters to cut the wire from the roll. Use your pliers to twist the two wire ends together tightly. My piece of wire ended up being approximately 43" long and the wreath ended up being 14" round. Anything larger and the balls would have been too heavy and I wouldn't have been able to keep the nice wreath shape.
STEP 3: Add an extra bauble or two
Your balls should be nestled together snugly but there might be a few gaps here or there. If that is the case use your hot glue gun to add additional balls to these gaps on the wreath.
Get into the

holiday

spirit by sending the supply list to your closest

friends

and host a crafternoon!
These ornaments can be found cheap all year long t thrift stores, so stock up!
Now, I've given you some good ideas for some fun. Let me know how
your party turned out!